Burglar and fire resistant safe Euro Class IV
Safes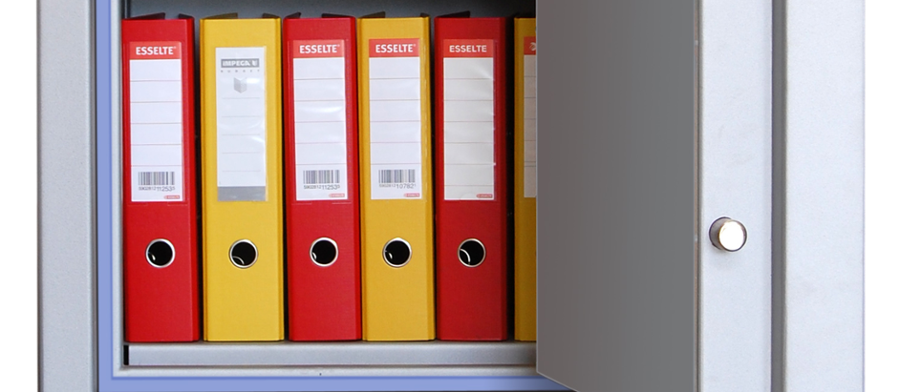 Burglar and fire resistant safe Euro Class IV PN-EN 1143-1:2012 (P41/103/2019(7741) / fire resistant 30 minutes /LFS 30 P PN-EN15659 (P41/177/2018(7508).
All-sides multi-wall body and door, certified safes. Equipped with one to four shelves. Standard locking trough a double bit mechanical combination lock incl. 2 keys and 2 floor holes for anchoring. Optionally delivered with an electronic lock.
Colour: RAL 7035 grey.
| Code | Description | Size | Size (inside) | Volume (L) | Weight (KG) | EAN code |
| --- | --- | --- | --- | --- | --- | --- |
| 07.LON.01 | Safe LDN01, 1 door and 1 shelf, for 6 files | 706 x 636 x 510 mm | 556 x 504 x 304 mm | 85 | 426 | 8712907010243 |
| 07.LON.02 | Safe LDN02, 1 door and 2 shelves, for 6 files | 806 x 636 x 510 mm | 656 x 504 x 304 mm | 101 | 471 | 8712907010250 |
| 07.LON.03 | Safe LDN03, 1 door and 2 shelves, for 12 files | 906 x 636 x 510 mm | 756 x 504 x 304 mm | 116 | 518 | 8712907010267 |
| 07.LON.04 | Safe LDN04, 1 door and 2 shelves, for 12 files | 1006 x 636 x 510 mm | 856 x 504 x 304 mm | 132 | 555 | 8712907010274 |
| 07.LON.05 | Safe LDN05, 1 door and 3 shelves, for 18 files | 1206 x 636 x 510 mm | 1056 x 504 x 304 mm | 162 | 665 | 8712907010281 |
| 07.LON.06 | Safe LDN06, 1 door and 3 shelves, for 24 files | 1506 x 806 x 550 mm | 1356 x 674 x 344 mm | 315 | 985 | 8712907010298 |
| 07.LON.07 | Safe LDN07, 1 door and 4 shelves, for 32 files | 1806 x 806 x 550 mm | 1656 x 674 x 344 mm | 385 | 1157 | 8712907010304 |
| 07.LON.08 | Safe LDN08, 1 door and 2 shelves, for 7 files | 800 x 700 x 550 mm | 650 x 568 x 344 mm | 127 | 526 | 8712907010311 |
| 07.LON.09 | Safe LDN09, 1 door and 3 shelves, for 21 files | 1250 x 700 x 550 mm | 1100 x 568 x 344 mm | 216 | 759 | 8712907010328 |
| 07.LON.10 | Safe LDN10, 1 door and 3 shelves, for 21 files | 1500 x 700 x 550 mm | 1350 x 568 x 344 mm | 265 | 892 | 8712907010335 |
| 07.LON.11 | Safe LDN11, 1 door and 4 shelves, for 35 files | 1950 x 700 x 550 mm | 1800 x 568 x 344 mm | 353 | 1014 | 8712907010342 |
| 07.LON.12 | Safe LDN12, 2 doors and 4 shelves, for 50 files | 1950 x 950 x 550 mm | 1800 x 818 x 344 mm | 508 | 1423 | 8712907010359 |
| 07.LON.13 | Safe LDN13, 2 doors and 4 shelves, for 75 files | 1950 x 1260 x 550 mm | 1800 x 1128 x 344 mm | 698 | 1631 | 8712907010366 |
| 07.LON.14 | Safe LDN14, 2 doors and 4 shelves, for 72 files | 1806 x 1486 x 550 mm | 1656 x 1354 x 344 mm | 771 | 1871 | 8712907010373 |
| 07.LON.15 | Safe LDN15, 1 door and 2 shelves, for 18 files | 1006 x 836 x 700 mm | 856 x 704 x 494 mm | 298 | 808 | 8712907010380 |
| 07.LON.16 | Safe LDN16, 1 door and 3 shelves, for 27 files | 1256 x 836 x 700 mm | 1106 x 704 x 494 mm | 385 | 963 | 8712907010397 |
| 07.LON.17 | Safe LDN17, 1 door and 3 shelves, for 27 files | 1506 x 836 x 700 mm | 1356 x 704 x 494 mm | 473 | 1120 | 8712907010403 |
| 07.LON.18 | Safe LDN18, 1 door and 4 shelves, for 36 files | 1806 x 836 x 700 mm | 1656 x 704 x 494 mm | 576 | 1307 | 8712907010410 |
| 07.LON.19 | Safe LDN19, 2 doors and 4 shelves, for 56 files | 1806 x 1200 x 700 mm | 1656 x 1068 x 494 mm | 874 | 1720 | 8712907010427 |
Options
| Code | Description | EAN code |
| --- | --- | --- |
| 15.EC.303 | Electronic lock with distresskey | 8712907007113 |
| 15.EL.GB | Electronic lock | 8712907007083 |
| 15.00.016 | Extendable frame for suspension files | 8712907005874 |
| 15.00.015 | Lockable inner cabinet | 8712907005867 |
Download PDF