Document safe Economy S2 Class S2/S30P
Safes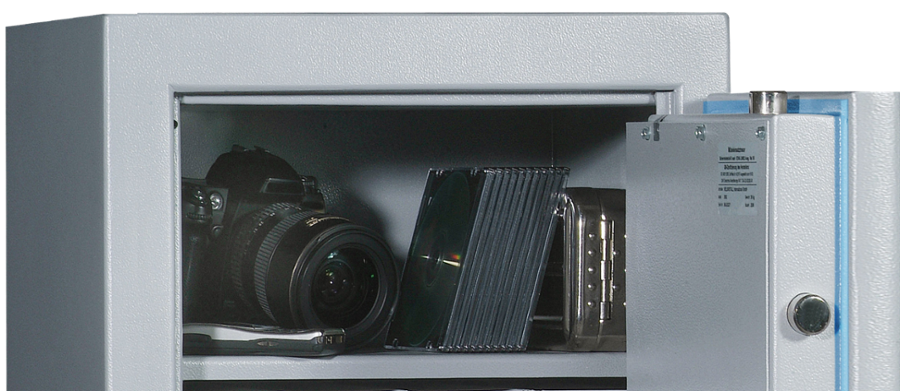 Document Safes Economy Class S2 certificated in accord. to European standard PN-EN 14450:2006. Fire-proof protection for 30 minutes LFS 30 P (pr EN 15659).

Cash rating € 5.000,--
Compact steel cabinets, completely double-walled body and door locking with double bit lock (incl. 2 keys).
External hinges allow full door opening. Equipped with adjustable shelf or shelves. Two holes in the floor for anchoring.
The safes below are supplied with a double-bit lock. Optionally delivered with an electronic lock. Colour: RAL7035 grey.
| Code | Description | Size | Size (inside) | Volume (L) | Weight (KG) | EAN code |
| --- | --- | --- | --- | --- | --- | --- |
| 07.DU.210 | Document safe DM210, 2 doors and 4 shelves, for 75 files | 1875 x 1305 x 527 mm | 1729 x 1165 x 348 mm | 701 | 416 | 8712907010830 |
| 07.DU.200 | Document safe DM200, 1 door and 1 shelf, for 3 files | 375 x 495 x 472 mm | 229 x 355 x 293 mm | 24 | 59 | 8712907010731 |
| 07.DU.201 | Document safe DM201, 1 door and 1 shelf, for 3 files | 475 x 385 x 472 mm | 329 x 245 x 293 mm | 25 | 58 | 8712907010748 |
| 07.DU.202 | Document safe DM202, 1 door and 1 shelf, for 4 files | 475 x 495 x 472 mm | 329 x 355 x 293 mm | 34 | 68 | 8712907010755 |
| 07.DU.203 | Document safe DM203, 1 door and 1 shelf, for 4 files | 675 x 495 x 472 mm | 529 x 355 x 293 mm | 55 | 84 | 8712907010762 |
| 07.DU.204 | Document safe DM204, 1 door and 1 shelf, for 8 files | 825 x 495 x 472 mm | 676 x 355 x 293 mm | 71 | 100 | 8712907010779 |
| 07.DU.205 | Document safe DM205, 1 door and 2 shelves, for 21 files | 1175 x 705 x 527 mm | 1029 x 565 x 348 mm | 202 | 178 | 8712907010786 |
| 07.DU.206 | Document safe DM206, 1 door and 3 shelves, for 28 files | 1525 x 705 x 527 mm | 1379 x 565 x 348 mm | 271 | 217 | 8712907010793 |
| 07.DU.207 | Document safe DM207, 1 door and 4 shelves, for 35 files | 1875 x 705 x 527 mm | 1729 x 565 x 348 mm | 340 | 268 | 8712907010809 |
| 07.DU.208 | Document safe DM208, 2 doors and 2 shelves, for 30 files | 1175 x 955 x 527 mm | 1029 x 815 x 348 mm | 292 | 230 | 8712907010816 |
| 07.DU.209 | Document safe DM209, 2 doors and 4 shelves, for 50 files | 1875 x 955 x 527 mm | 1729 x 815 x 348 mm | 490 | 338 | 8712907010823 |
Options
| Code | Description | EAN code |
| --- | --- | --- |
| 15.EM.CS | Mechanical combination lock | 8712907007076 |
| 15.EL.GB | Electronic lock | 8712907007083 |
| 15.EC.303 | Electronic lock with distresskey | 8712907007113 |
| 15.00.016 | Extendable frame for suspension files | 8712907005874 |
| 15.00.015 | Lockable inner cabinet | 8712907005867 |
Download PDF