Deposit safe Euro Class S2
Safes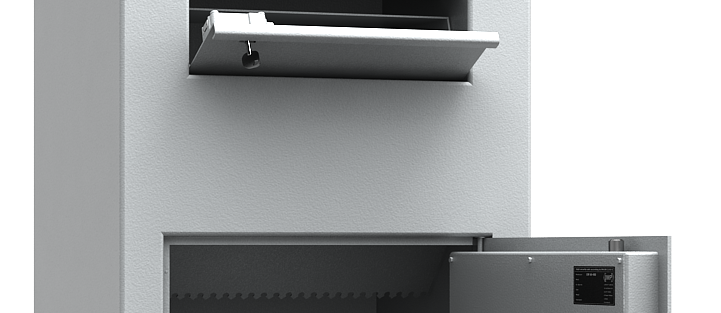 Deposit safe Euro Class S2 (PN-EN 14450:2006).

Cash rating € 5.000,--.
Deposit safes, double-walled 60 mm, double-walled door 60 mm. Equipped with drawer, for objects with a maximum size of 280x400x20 mm.
Provided with floor holes for anchoring and prepared for wall mounting.
The safes below come with a double bit lock on the door and drawer. Optionally delivered with an electronic lock.
Colour: RAL7035 grey.
| Code | Description | Size | Size (inside) | Volume (L) | Weight (KG) | EAN code |
| --- | --- | --- | --- | --- | --- | --- |
| 07.EMD.810 | Deposit safe E810 | 920 x 620 x 520 mm | 276 x 491 x 390 mm | 372 x 415 mm | 125 | 8712907022000 |
| 07.EMD.811 | Deposit safe E811 | 1120 x 620 x 520 mm | 476 x 491 x 390 mm | 572 x 415 mm | 140 | 8712907022017 |
| 07.EMD.812 | Deposit safe E812 | 1320 x 620 x 520 mm | 676 x 491 x 390 mm | 772 x 415 mm | 160 | 8712907022024 |
Options
| Code | Description | EAN code |
| --- | --- | --- |
| 15.EM.CS | Mechanical combination lock | 8712907007076 |
| 15.EL.GB | Electronic lock | 8712907007083 |
| 15.EC.303 | Electronic lock with distresskey | 8712907007113 |
Download PDF