Deposit safe Euro Class D-II
Safes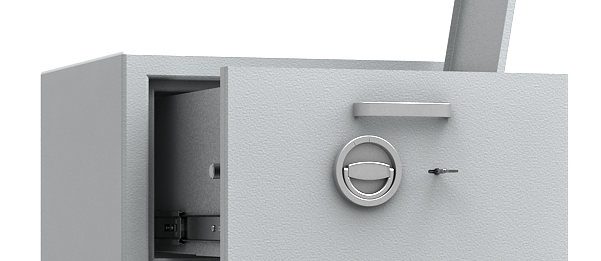 Deposit safe Euro Class D-II (EN 1143-2:2014, ECB.S C 10).

Cash rating € 25.000,--.
Multi-walled certified deposit safes. Equipped with drawer, for objects with a maximum size of 320x220x70 mm. Provided with floor holes for anchoring and prepared for wall mounting.
The safes below come with a double bit lock on the door and drawer. Optionally delivered with an electronic lock.
Colour: RAL7035 grey.
| Code | Description | Size | Size (inside) | Volume (L) | Weight (KG) | EAN code |
| --- | --- | --- | --- | --- | --- | --- |
| 07.BO.A01 | Safe A01 Class II with drawer at the front | 950 x 590 x 550 mm | 265 x 480 x 390 mm | 498x474 | 284 | 8712907221904 |
| 07.BO.A11 | Safe A11 Class II with drawer at the front | 1300 x 590 x 550 mm | 615 x 480 x 390 mm | 848x474 | 356 | 8712907021911 |
| 07.BO.A21 | Safe A21 Class II with drawer at the back | 950 x 590 x 550 mm | 265 x 480 x 390 mm | 498x474 | 284 | 8712907021928 |
| 07.BO.A31 | Safe A31 Class II with drawer at the back | 1300 x 590 x 550 mm | 615 x 480 x 390 mm | 848x474 | 356 | 8712907021935 |
Options
| Code | Description | EAN code |
| --- | --- | --- |
| 15.EM.CS | Mechanical combination lock | 8712907007076 |
| 15.EL.GB | Electronic lock | 8712907007083 |
| 15.EC.303 | Electronic lock with distresskey | 8712907007113 |
| 15.00.034 | Shelf (for models A11 and A31) | 8712907007809 |
| 15.00.015 | Lockable inner cabinet | 8712907005867 |
Download PDF