Burglar and fire resistant safe Euro Class V
Safes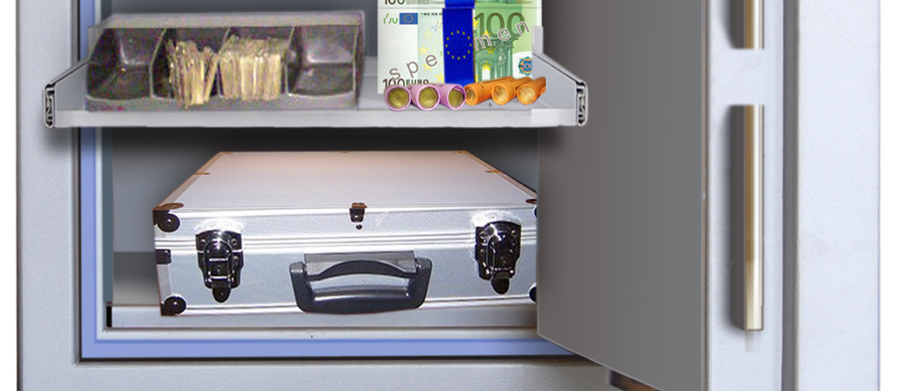 Burglar resistant safes Euro Class V PN-EN 1143-1: 2012 (P41/112/2020(8050) / Fireresistant 30 minutes / LFS 30 P (PN-EN15659:2009) P41/170/2018 (7501).

Cash rating € 125.000,--.
All-sides multi-wall body and door, certified safes. Equipped with one to four shelves.
Standard locking through a double bit key and mechanical combination lock. With 2 floor holes for anchoring.
Optionally delivered with an electronick lock.
Colour: RAL 7035 grey.
| Code | Description | Size | Size (inside) | Volume (L) | Weight (KG) | EAN code |
| --- | --- | --- | --- | --- | --- | --- |
| 07.11.A01 | Safe ADM01, 1 door and 2 shelves, for 6 files | 842 x 672 x 538 mm | 656 x 504 x 299 mm | 99 | 576 | 8712907010434 |
| 07.11.A02 | Safe ADM02, 1 door and 2 shelves, for 12 files | 942 x 672 x 538 mm | 756 x 504 x 299 mm | 114 | 609 | 8712907010441 |
| 07.11.A03 | Safe ADM03, 1 door and 2 shelves, for 12 files | 1042 x 672 x 538 mm | 856 x 504 x 299 mm | 129 | 682 | 8712907010458 |
| 07.11.A04 | Safe ADM04, 1 door and 3 shelves, for 18 files | 1242 x 672 x 538 mm | 1056 x 504 x299 mm | 159 | 890 | 8712907010465 |
| 07.11.A05 | Safe ADM05, 1 door and 3 shelves, for 24 files | 1542 x 842 x 578 mm | 1356 x 674 x 339 mm | 310 | 1158 | 8712907010472 |
| 07.11.A06 | Safe ADM06, 1 door and 4 shelves, for 32 files | 1842 x 842 x 578 mm | 1656 x 674 x 339 mm | 378 | 1352 | 8712907010489 |
| 07.11.A07 | Safe ADM07, 1 door and 2 shelves, for 7 files | 836 x 736 x 578 mm | 650 x 568 x 339 mm | 125 | 641 | 8712907010496 |
| 07.11.A08 | Safe ADM08, 1 door and 3 shelves, for 21 files | 1286 x 736 x 578 mm | 1100 x 568 x 339 mm | 212 | 905 | 8712907010502 |
| 07.11.A09 | Safe ADM09, 1 door and 3 shelves, for 21 files | 1536 x 736 x 578 mm | 1350 x 568 x 339 mm | 260 | 1051 | 8712907010519 |
| 07.11.A10 | Safe ADM10, 1 door and 4 shelves, for 35 files | 1986 x 736 x 578 mm | 1800 x 568 x 339 mm | 347 | 1315 | 8712907010526 |
| 07.11.A11 | Safe ADM11, 2 doors and 4 shelves, for 50 files | 1986 x 986 x 578 mm | 1800 x 818 x 339 mm | 499 | 1655 | 8712907010533 |
| 07.11.A12 | Safe ADM12, 2 doors and 4 shelves, for 75 files | 1986 x 1296 x 578 mm | 1800 x 1128 x 339 mm | 688 | 2034 | 8712907010540 |
| 07.11.A13 | Safe ADM13, 2 doors and 4 shelves, for 72 files | 1842 x 1522 x 578 mm | 1656 x 1354 x 339 mm | 760 | 2171 | 8712907010557 |
| 07.11.A14 | Safe ADM14, 1 door and 2 shelves, for 18 files | 1042 x 572 x 728 mm | 856 x 704 x 489 mm | 295 | 995 | 8712907010564 |
| 07.11.A15 | Safe ADM15, 1 door and 3 shelves, for 27 files | 1292 x 872 x 728 mm | 1106 x 704 x 489 mm | 381 | 1180 | 8712907010571 |
| 07.11.A16 | Safe ADM16, 1 door and 3 shelves, for 27 files | 1542 x 872 x 728 mm | 1356 x 704 x 489 mm | 467 | 1362 | 8712907010588 |
| 07.11.A17 | Safe ADM17, 1 door and 4 shelves, for 36 files | 1842 x 872 x 728 mm | 1656 x 704 x 489 mm | 570 | 1583 | 8712907010595 |
| 07.11.A18 | Safe ADM18, 2 doors and 4 shelves, for 56 files | 1842 x 1236 x 728 mm | 1656 x 1068 x 489 mm | 865 | 2055 | 8712907010601 |
Options
| Code | Description | EAN code |
| --- | --- | --- |
| 15.EL.GB | Electronic lock | 8712907007083 |
| 15.EC.303 | Electronic lock with distresskey | 8712907007113 |
| 15.00.016 | Extendable frame for suspension files | 8712907005874 |
| 15.00.015 | Lockable inner cabinet | 8712907005867 |
Download PDF