Euro Class S2
Key safes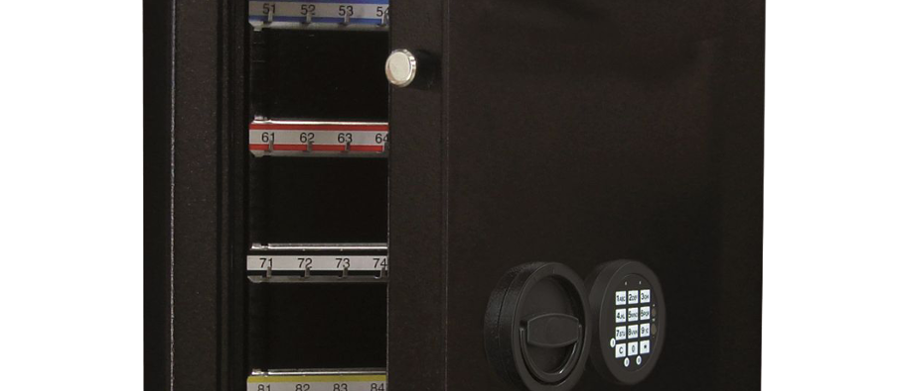 Key safes certificated Euro Class S2 (PN:EN 14450:2006).
These safes come with a double bit lock (db) or a digital lock (e), provided with 1 master and 1 user code.
Fire retardant and burglar proof. Double walls, door thickness 6 mm, other outer walls 3mm.
Lock reinforced with manganese steel.
These key safes come with adjustable hookstrips in ladder rack system.
All safes including a wall fixing kit.
Colour: black (RAL9005).
| Code | Description | Size | Weight (KG) | EAN code |
| --- | --- | --- | --- | --- |
| 07.060.db | Key safe B60db (60 hooks) | 420 x 460 x 170 mm | 30.00 | 8712907004167 |
| 07.060.el | Key safe B60e (60 hooks) | 420 x 460 x 170 mm | 30.00 | 8712907004174 |
| 07.100.db | Key safe B100db (100 hooks) | 630 x 460 x 170 mm | 41.00 | 8712907004181 |
| 07.100.el | Key safe B100e (100 hooks) | 630 x 460 x 170 mm | 41.00 | 8712907004198 |
| 07.200.db | Key safe B200db (200 hooks) | 630 x 460 x 300 mm | 55.00 | 8712907004204 |
| 07.200.el | Key safe B200e (200 hooks) | 630 x 460 x 300 mm | 55.00 | 8712907004211 |
Download PDF